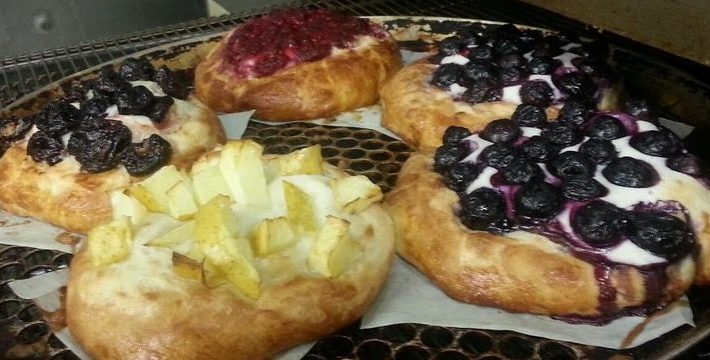 Kolaches fresh from the oven!
Bonu Café is the only restaurant offering Kolaches, especially with our variety. We make our dough on site with our family recipe, prepared and baked to order.
Have you ever tried kolache?
Bonu Café is home of the kolache, a tasty bite-sized pastry from Eastern Europe, where the original recipe calls for a dollop of apricot filling, cottage cheese with a dusting of poppy seeds on top. However, this delicious bread-dough is so scrumptious we had to put a Bonu Café spin on this traditional treat.
Try our fruit filled dessert kolache and our unique kolache made for a meal, like egg and cheese kolache, Vegetarian or meat & cheese kolache. Baked fresh daily!
Kolache Dough is a process!
Please keep in mind that we make our own kolache dough using our special recipe. It's a lengthy process! There may be times when we run out of kolache dough, and it's impossible to go in the kitchen and whip up some more! Feel free to call ahead to order and check on the dough supply.
Fruit kolache are available individually or by the dozen. You'll find our full selection our Kolache menu.
Breakfast Kolaches
Egg & Cheese Kolache
Sausage, Egg & Cheese Kolache
Ham, Egg & Cheese Kolache
Sausage , Egg & Jalapeño Kolache
Bacon, Egg & Cheese Kolache
Lunch Kolaches
Ham & Cheese Kolache
Chicken Fajita & Jalapeño Kolache
Philly Cheese Steak Kolache
Pomodoro Mozzarella Kolache
Pepperoni Pizza Kolache
Fruit Kolaches
Pineapple
Strawberry
Banana
Raspberry
Apricot
Poppy Seed
Orange Zest
Walnut & Date
Peach
Blueberry
Mango
Fig
Apple